Someone Else's Dream
by Daniel Wisser
Dealing with emotions in a documentary is difficult—much more so than in a fiction feature. The apparently objective and factual elements determine our reactions in a simple and efficient way. We watch a documentary about Brian Wilson and then want to be Brian Wilson. And that works the same way with negative emotions: We watch a documentary about plastic and then hate plastic. What's much more difficult is leaving emotions up to the spectators themselves. The makers of the film SCHLAGERSTAR managed to do this, and it releases the viewer into a superficial sadness after 90 minutes of staring into emptiness—complete emptiness.
SCHLAGERSTAR is a portrait of the pop-folk musician Marc Pircher. We approach this star not in spite of his inaccessibility, but because he's so accessible. The film does without narration of any kind, background music or cinematographic finesse. We accompany Pircher as he tirelessly commutes between the studio, stage, beer tents, living-room-based Internet radio broadcasters, TV appearances, fan visits on a tractor, CD-signing sessions and much more. In the process we see a high-tech world in which cars, cellphones and handsfree devices play an important role, in addition to cool sunglasses, jeans and beer bellies.
The filmmakers' apparent objectivity is soon revealed to be an insidious type of subjectivity which turns Pircher's dream, the star status mentioned in the title, the embarrassingly documented, embarrassing present into an embarrassment, a sad affair which is in no way ironic or cynical, but instead mercilessly undermines what it portrays, apparently by not staging it, but by means of flawless precision and seriousness.
The dream of Pircher's operation, which involves making his music, seems logical at first, clear and comprehensible, but only until one notices that what's ostensibly his own is not his at all. The popularity of his songs and lyrics that he's working toward, the desire to be liked by everyone at all cost makes the audience the true sovereign, at the same time depriving it of all sovereignty. The drinking song "A Toast of Fellowship," the most unpleasant of all songs, is sung several times at each performance, and adventurously amateurish versions of Hansi Hinterseer's "Hände zum Himmel" and Fendrich's monarchist hymn "I Am from Austria" are belted out, accompanied by a message that the German-speaking area that approximately corresponds to where Pircher performs is the most beautiful place on Earth. Pircher's constantly on the move, on a country road leading to hell, and along the way there are some funny and embarrassing moments, such as the tactical discussions about purchasing his own CDs from his own label, the only way they will go platinum. All that illustrates how Pircher the individual is the servant or slave of his own dream, for which he goes through the hell he's already living in. There's even a scene in which Pircher, while talking to a makeup artist, reveals that he sees himself as a persecuted outcast.
In many ways you could call the method being used a trivialization of the poetic and poetification of the trivial, but that wouldn't be quite apt, as the most hopeless megalomania provides much more identification potential. And whoever expected to find the music industry's final paradise in the world of pop folk, where everything's still made of gold, will be disappointed by this film.
Regardless of the theme and the protagonist in SCHLAGERSTAR, the film's style is its truly wonderful aspect. Not that it has never been done before, but such a precise avoidance of any kind of voyeurism and even hints of bias is not something I've seen in many documentaries. And perhaps, this method can be applied to other life dreams to make possible the portrayal of things that have disappeared without being noticed.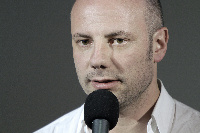 Daniel Wisser, born in 1971, is a musician and writer and lives in Vienna.
2003 His debut novel, Dopplergasse acht, was published.
2011 Nominated for the Ingeborg Bachmann award; his novel Standby appeared later that year.
At the Floriana biennale for literature Wisser received 2nd prize for his novel in progress, Ein weißer Elefant.
Foto: (c) Alek Kawka